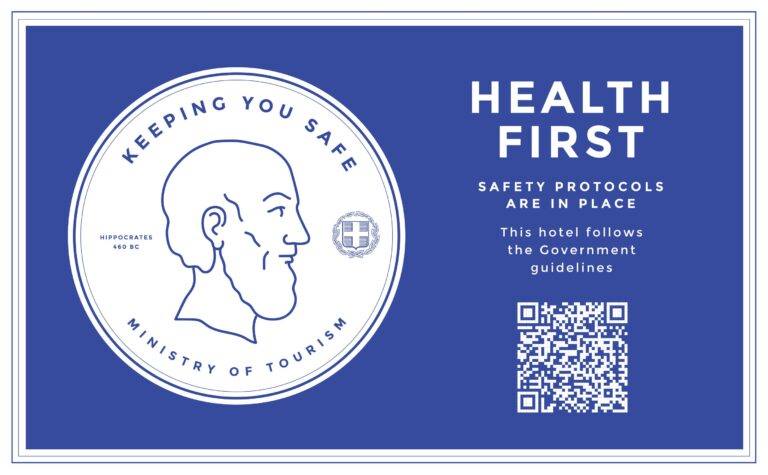 For the safety of all of us, so that we can be together again this summer in Studios Alexandra we adapt our operation considering the new Safety Standards & Hygiene Protocols for Covid-19.
Services Available:
Check in after 15.00
Check out before 11.00
Thermometry
UVC sterilization lamp
Contracting doctor
Compliance with Safety Distances
Certification for Covid-19 disinfection
Disinfection of keycards – with the use of UVC sterilization lamp
Anti covid-19 cleansers
Adequate staff equipment for personal protection (gloves, masks, robe, closed shoes,shoe covers)
Installing a disposable cover on the TV and air conditioner controls or Sterilize them with a UVC sterilization lamp
Certificate, from the bed linen washing workshop, about washing at 70 degrees or more with detergents against covid-19
Hand antiseptics, outdoors in our facilities
Hand antiseptics, indoors in our facilities
Special equipment (medical kit) for the occurrence of an incident, such as gloves and disposable masks, antiseptics, cleaning wipes, apron, long-sleeved robe, laser thermometer.
Pre Check In Form to reduce contact time during Check In
Check In outdoor
Proper configuration of the check in desk and frequent disinfection of its surfaces.
Outside WC wit the indication have been disinfected
Barbeque after consultation with the hotel management
Not Available Services:
Vetex
kitchen sponges
Couverture
Blankets
Tablecloths
Bath towels
Face towels
Kitchen towels
Decorative items
Playground
It is forbidden for non-residents to enter the rooms
Studios Alexandra staff will attend a Seminar on Health Protocols.
Latest update: 20/06/2020